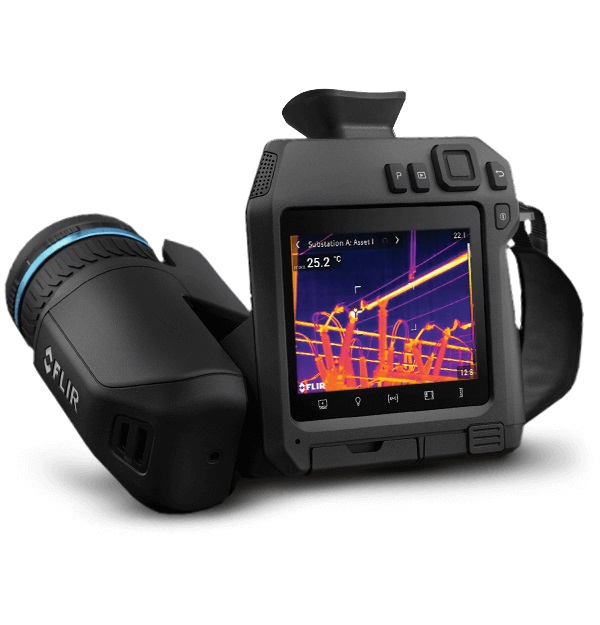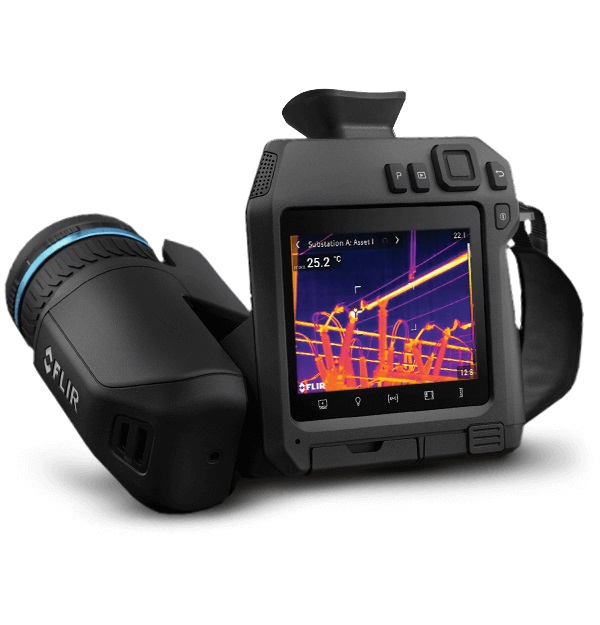 FLIR T865 – High-Performance Handheld Infrared Camera
IMPROVE WORKFLOW EFFICIENCIES

Develop inspection routes in FLIR Thermal Studio Pro and upload to a T865 using Route Creator to quickly and easily collect and manage critical data.

WORK SAFELY AND COMFORTABLY

Assess the state of equipment from a safe distance, at any angle, or in any lighting condition using the 180° rotating optical block, integrated eyepiece viewfinder, and 4-inch color IPS display.

MAKE CRITICAL DECISIONS QUICKLY

Increase in-field efficiency with exceptional measurement accuracy, enhanced thermal imagery, and workflow optimizations to save time and share data faster.
The FLIR T865 thermal imaging camera is a non-contact inspection tool with a 180° rotating optical block that allows users to safely and comfortably assess the condition of critical electrical and mechanical equipment in utility and manufacturing applications. With advanced features including unmatched temperature measurements down to -40°C, accuracy as good as ±1°C / ±1%, 1-Touch Level/Span contrast enhancement, and laser-assisted autofocus, you'll get highly accurate temperature measurements every time. Pair the T865 with a 6° FOV IR lens to perform inspections on small targets from long distances. The on-board Inspection Route system helps you record temperature data and imagery in a logical sequence for faster troubleshooting and repair. Adding a FLIR T865 camera to a condition monitoring/predictive maintenance program can help reduce maintenance costs, improve system efficiency and reliability, and prevent downtime due to outages.
Display
4″, 640 × 480 pixel touchscreen LCD with auto-rotation
Laser Pointer

Yes
Programmable Buttons

2.0
Text

Predefined list or touchscreen keyboard
Time Lapse

10 sec to 24 hrs
Voice

60 sec. recording added to still images or video via built-in mic (has speaker) or via Bluetooth
Weight & Dimensions (without lens)

1.3 kg (2.9 lb), 140 × 201 × 84 mm (5.5 × 7.9 × 3.3 in)
CONNECTIONS & COMMUNICATIONS
Communication Interfaces

USB 2.0, Bluetooth, Wi-Fi, DisplayPort
METERLiNK

Yes
Storage Media

Removable SD card
Video Out

DisplayPort over USB Type-C
ENVIRONMENTAL
Operating Temperature Range

-15°C to 50°C (5°F to 122°F)
Safety

EN/UL/CSA/PSE 60950-1
Shock & Vibration & Encapsulation

25 g (IEC 60068-2-27), 2 g (IEC 60068-2-6), IP54 (IEC 60529)
Storage Temperature Range

-40°C to 70°C (-40°F to 158°F)
IMAGING & OPTICAL
Color Palettes

Iron, Rainbow, Rainbow HC, White hot, Black hot, Arctic, Lava
Detector Type and Pitch

Uncooled microbolometer, 12 µm
Digital Camera

5 MP, with built-in LED photo/video lamp
Digital Zoom

1-8x continuous
f-number

1.5
Focus

Continuous with laser distance meter (LDM), one-shot LDM, one-shot contrast, manual
Global Positioning System [GPS]

Automatic image tagging
Image Frequency

30 Hz
Image Sketch

From touchscreen, on infrared image only
IR Resolution

640 × 480 pixels
Lens Identification

Automatic
Minimum Focus Distance

1.0 m
Non-Radiometric IR or Visual Video

H.264 to memory card
Non-radiometric IR video streaming

H.264 or MPEG-4 over Wi-Fi MJPEG over UVC or Wi-Fi
Picture-in-Picture

Resizable and movable
Radiometric IR video recording

Real-time radiometric recording (.csq)
Radiometric IR video streaming

Yes, over UVC
Spectral Range

7.5 – 14.0 µm
Thermal Sensitivity/NETD

<50 mK at 30°C (14° lens)
UltraMax

Quadruples pixel count; activated in menu and processed in FLIR reporting software.
Viewfinder

Yes
MEASUREMENT & ANALYSIS
Accuracy

±1°C (±1.8°F): 5 to 100°C (41 to 212°F), ±1%: 100 to 120°C (212 to 248°F), ±2°C (±3.6°F): –40 to 100°C (–40 to 212°F), ±2%: 100 to 650°C (212 to 1202°F), 300 to 2000°C (572 to 3632°F)
Area measurement information

Yes; calculates area inside measurement box in m² or ft²
Laser Distance Meter

Yes; dedicated button
Measurement Presets

No measurement, center spot, hot spot, cold spot, User Preset 1, User Preset 2
Object Temperature Range

-40°C to 120°C (-40°F to 248°F); 0°C to 650°C (32°F to 1202°F) 300°C to 2000°C (572°F to 3632°F)
Spot Meter

10 ea. in live mode
POWER
Battery operating time

Approx. 4 hours at 25°C (77°F) ambient temperature and typical use
Battery type

Li-ion battery, charged in camera or on separate charger
SHIPPING INFORMATION
Packaging

Infrared camera with lens, small viewfinder eyecup, 2 batteries, battery charger, hard transport case, lanyards, front lens cap, power supplies, printed documentation, SD card (8 GB), cables (USB 2.0 A to USB Type-C, USB Type-C to HDMI, USB Type-C to USB Type-C), License card: FLIR Thermal Studio Pro (3 month subscription) + FLIR Route Creator Plugin for Thermal Studio Pro (3 month subscription)
STORAGE MEDIA
Image File Format

Standard JPEG with measurement data included
Image Storage Mode

Infrared, visual, MSX®, Picture-in-Picture