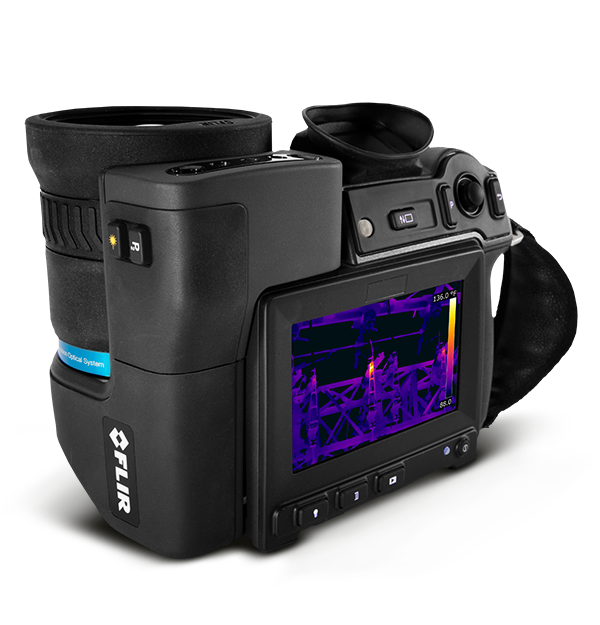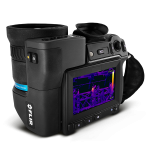 FLIR T1020 – HD Thermal Camera with Viewfinder
Get ready for outstanding thermal imaging performance, built on 50 years of experience. With its remarkable range, up to 3.1 M resolution (UltraMax®), and an agile, new user interface, FLIR's flagship T1020 is designed to streamline your workday, and make you the hero. For the sharpest images, the truest temperatures, the most flexibility—the T1020 is the ultimate result of five decades of infrared expertise. The FLIR T1020 comes with on-board Inspection Route mode so you can download and run survey plans to your camera from FLIR Thermal Studio Pro with Route Creator plugin (3-month subscription included).
EXPERT FEATURES

The T1020 now offers an agile new GUI that responds like a smartphone, plus live image enhancements such as 1-Touch Level/Span.

EXCEPTIONAL MEASUREMENT PERFORMANCE

The FLIR OSX™ Precision HDIR optical system offers continuous autofocus and crisp resolution for accurate measurements, even from a distance.

COMPACT AND EASY TO USE

The T1020 has a 120° rotating optical block and bright, high-resolution LCD viewfinder, putting any target within comfortable viewing range.
OVERVIEW
Color Alarm (Isotherm)

Above/below/interval
Compass

Camera direction automatically added to every image
Detector Type

Focal plane array (FPA), uncooled microbolometer
Difference Temperature

Delta temperature between the measurement functions and the reference temperature
Display

Built-in touchscreen, 4.3 in. wide screen LCD, 800 × 480 pixels
Housing material

Magnesium
Laser

Activated by a dedicated button
Laser Alignment

Position is automatically displayed on the infrared image
Laser Classification

Class 2
Laser Type

Semiconductor AlGaInP diode laser, 1 mW, 635 nm (red)
Multi Spectral Dynamic Imaging (MSX)

Thermal image with enhanced detail presentation
Profile

1 line profile with max./min. temperature
Text

Add table, select between predefined templates
Time Lapse

15 seconds to 24 hours
User Presets

The user can select and combine measurements from any number of spots/boxes/circles/profiles/delta
Voice

60 seconds (via Bluetooth) stored with the image
Weight

2.1 kg (4.6 lb)
CONNECTIONS & COMMUNICATIONS
Antenna

Internal
Audio

Microphone headset via Bluetooth for the voice annotation of images
Bluetooth

Frequency range: 2402–2480 MHz, supports 2.1 and 4.0
Interface

USB Micro-B, Bluetooth, Wi-Fi, HDMI
METERLiNK

Wireless connection (Bluetooth) to: FLIR meters with METERLiNK
METERLiNK – Bluetooth

Communication with headset and external sensors
SD Card

One card slot for removable SD memory cards
Storage Media

Removable media SD or SDHC card. Class 10 or better recommended
USB

USB Micro-B: data transfer to and from a PC, uncompressed colorized video
USB – Standard

USB 2.0 High Speed USB Micro-B connector
Video Connector Type

HDMI type C
Video Out

HDMI 640 × 480 HDMI 1280 × 720 DVI 640 × 480 DVI 800 × 600
WiFi

Standard: 802.11 b/g/n Frequency range: 2412–2462 MHz Max. output power: 15 dBm
ENVIRONMENTAL
Atmospheric transmission correction

Automatic, based on the inputs for distance, atmospheric temperature, and relative humidity
EMC

ETSI EN 301 489-1 (radio) ETSI EN 301 489-17 EN 61000-6-2 (Immunity) EN 61000-6-3 (Emission) FCC 47 CFR Part 15 Class B (Emission) ICES-003
Emissivity Correction

Variable from 0.01 to 1.0 or selected from the materials list
Encapsulation

IP 54 (IEC 60529)
Ergonomics

The viewfinder plus the 120° rotating optical block allow you to point the camera in multiple directions while maintaining a comfortable position
Humidity (Operating and Storage)

IEC 60068-2-30 / 24 hours, 95% relative humidity, 25–40°C (77–104°F) / 2 cycles
Operating Temperature Range

-15°C to 50°C (5°F to 122°F)
Radio Spectrum

ETSI EN 300 328 FCC Part 15.247 RSS-247 Issue 2
Safety

EN/UL/CSA/PSE 60950-1
Shock

25 g (IEC 60068-2-29)
Storage Temperature Range

–40 to +70°C (–40 to 158°F)
Tripod Mounting

UNC ¼"-20
Vibration

2 g (IEC 60068-2-6)
IMAGING & OPTICAL
4.3" Display

800 × 480 pixels
Auto orientation

Automatic landscape or portrait
Automatic Image Adjustment

Standard or histogram based on the image content
Built-in Digital Camera

5 Mpixel with LED light
Camera size excl lens (L x W x H)

167.2 mm × 204.5 mm × 188.3 mm (6.6 in. × 8.0 in. × 7.4 in.)
Camera software update

Use PC software FLIR Tools
Color Palettes

Iron, Rainbow, Rainbow HC, White hot, Black hot, Arctic, Lava
Detector Pitch

17 µm
Digital Camera

Field of view adapts to the infrared lens
Digital image enhancement

Adaptive digital noise reduction
Digital Zoom

1–8× continuous
Display Type

Capacitive touchscreen
Field of view (FOV)

12° × 9°
f-number

1.2
Focal Length

83.4 mm (3.28 in)
Focus

One shot or manual
Frame Rate [Full Window]

30 Hz
Gallery

Review thumbnail/full image on the camera Edit measurements/palettes/image modes on the camera
Global Positioning System [GPS]

Location data automatically added to every image from the built-in GPS
Image Description

Add short note (stored in the JPEG exif tag)
Image Frequency

30 Hz
Image Modes

Thermal, thermal MSX, picture in picture, digital camera
Infrared Image

Full color infrared image
IR Resolution

1024 × 768; up to 3.1 MP with UltraMax
Lens Identification

Automatic
Manual Image Adjustment

Linear based, possible to adjust level/span/max./min.
Minimum IR focus distance

1.3 m (4.26 ft)
Minimum IR–visual alignment distance

1.3 m (4.26 ft)
MSX Resolution

1024 × 768 pixels
Non-radiometric IR video recording

H.264 to the memory card
Non-radiometric IR video streaming

H.264 video using Wi-Fi H.264 video using USB
Picture-in-Picture

Resizable and movable infrared area on the visual image
Radiometric IR video recording

Real-time radiometric recording (RTRR) to the memory card
Radiometric IR video streaming

Real-time radiometric streaming (RTRS) via USB
Sketch

Draw on the thermal/digital image or add predefined stamps Separate PC software with extensive report generation
Spatial resolution (IFOV)

0.20 mrad
Spectral Range

7.5–14 µm
Thermal Sensitivity/NETD

<20 mK @ 30°C (86°F)
UltraMax

Yes
Video Lamp

Built-in LED light
Viewfinder

Built-in 800 × 480 pixels
Visual Image

Full color visual image
Visual Video Recording

H.264 to the memory card
Visual Video Streaming

H.264 video using Wi-Fi H.264 video using USB
MEASUREMENT & ANALYSIS
Area

5 + 5 areas (boxes and circles) with max./min./average
External Optics & Windows Correction

Automatic, based on the inputs of the window transmission and temperature
Languages

Arabic, Czech, Danish, Dutch, English, Finnish, French, German, Greek, Hungarian, Italian, Japanese, Korean, Norwegian, Polish, Portuguese, Russian, simplified Chinese, Swedish, traditional Chinese, Turkish
Measurement Corrections

Emissivity, reflected temperature, relative humidity, atmospheric temperature, object distance, external infrared window compensation
Measurement Function Alarm

Audible/visual alarms (above/below) on any selected measurement function
Measurement Presets

No measurements, Center spot, Hot spot, Cold spot, User preset 1, User preset 2
Object Temperature Range

-40°C to 2000°C (-40°F to 3632°F)
Object temperature range Accuracy

±1°C (±1.8°F) or ±1% at 25°C for temperatures between 5°C to 150°C ±2°C (±3.6°F) or ±2% of reading at 25°C for temperatures up to 1200°C
Optics Transmission Correction

Automatic, based on signals from internal sensors
Reference Temperature

Manually set using the difference temperature
Reflected apparent temperature correction

Automatic, based on the input of the reflected temperature
Set-up Commands

Define user presets, Save options, Programmable button, Reset options, Set up camera, Wi-Fi, GPS & compass, Bluetooth, Language, Time & units, Camera information
Spot Meter

10
OTHER
Filter_Max Frame Rate [Fill Window]

30 Hz
Touch Screen

Yes
POWER
Battery operating time

>2.5 hours at 25°C (68°F) and typical use
Battery type

Rechargeable Li ion battery
Charging system

In camera (AC adapter or 12 V from a vehicle) or two-bay charger
Charging Temperature

0°C to 45°C (32°F to 113°F), except for the Korean market: 10°C to 45°C (‎50°F to ‎113°F)‎
Charging Time

2.5 hours to 90% capacity, charging status indicated by LEDs
External Power Operation

AC adapter 90–260 V AC, 50/60 Hz or 12 V from a vehicle (cable with a standard plug, optional)
Power Management

Automatic power-off functionality, user configurable between 5 minutes, 20 minutes, and no automatic shutdown
SHIPPING INFORMATION
Box Contents

Infrared camera with lens Battery (2 each), Battery charger, HDMI-HDMI cable, Hard transport case Large eyecup, Lens cap, Neck strap, Power supply, including multi-plugs USB cable, Standard A to Micro-B Calibration certificate, FLIR Tools+ license card, User documentation on CD-ROM Printed documentation, Bluetooth headset, SD card
STORAGE MEDIA
File Formats

Standard JPEG, measurement data included CSQ, measurement data included
File Formats – Visual

Standard JPEG, automatically associated with the corresponding thermal image
Image Storage

Standard JPEG, including digital image and measurement data, on a memory card
Image Storage Mode

Simultaneous storage of thermal and digital images in the same JPEG file Option to store a digital photo as a separate JPEG file