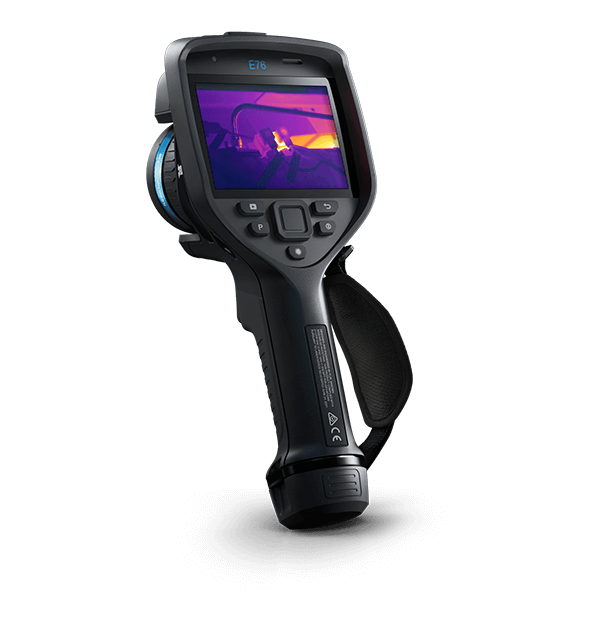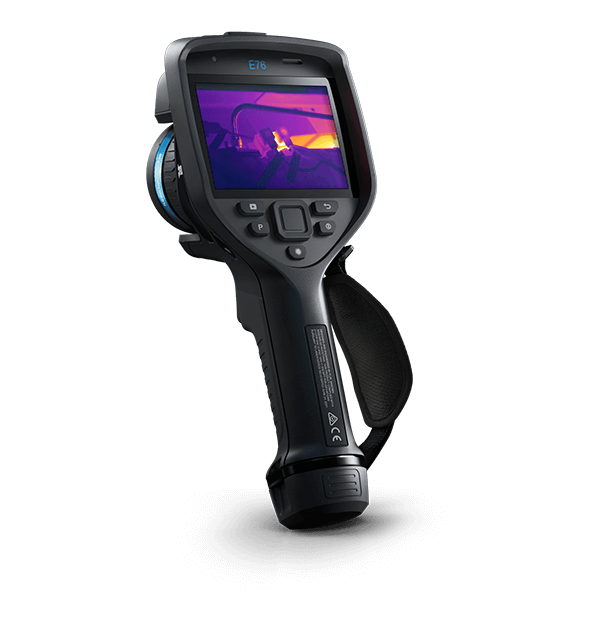 FLIR E76 – Advanced Thermal Imaging Camera
The FLIR E76 offers complete coverage of near and distant targets through a range of interchangeable AutoCal™ lenses, with fields of view for everything from wide-angle roof inspections to electrical inspections performed from a safe distance. A step up from the FLIR E54, the E76 includes an optional temperature range to 1000°C (1832°F), laser-assisted autofocus, and 3 area measurement boxes. The 320 × 240 thermal resolution produces crisp, vibrant imagery that can be enhanced with patented FLIR MSX® technology for added detail and perspective. Onboard FLIR Inspection Route feature runs pre-planned survey routes to help inspectors stay organized when surveying large or multiple locations. For a limited time, the purchase of an E76 camera includes a 3-month subscription to FLIR Thermal Studio Pro and FLIR Route Creator.
INTERCHANGEABLE, AUTO-CALIBRATING LENSES

Telephoto, standard, and wide angle AutoCal™ lenses help users survey large targets quickly, check machines for signs of failure, or inspect electrical systems safely.

IMPROVED CONTRAST FOR FASTER DIAGNOSIS

Use FLIR 1-Touch Level/Span to instantly improve image contrast and highlight potential electrical or mechanical issues.

STREAMLINED REPORTING

Onboard integration with FLIR routing software*, a built-in mic for voice annotation, and report generation features all help the E76 streamline your workday.
OVERVIEW
Display

4″, 640 × 480 pixel touchscreen LCD with auto-rotation
FLIR Inspection Route

Enabled in camera
Laser Pointer

Yes
Programmable Buttons

1
Text

Predefined list or touchscreen keyboard
Time Lapse

No
Voice

60 sec. recording added to still images or video via built-in mic (has speaker) or via Bluetooth®
Weight & Dimensions (without lens)

1 kg (2.2 lbs), 278.4 × 116.1 × 113.1 mm (11.0 × 4.6 × 4.4 in)
CONNECTIONS & COMMUNICATIONS
Communication Interfaces

USB 2.0, Bluetooth®, Wi-Fi, DisplayPort
METERLiNK

Yes
Storage Media

Removable SD card
Video Out

DisplayPort over USB Type-C
ENVIRONMENTAL
Operating Temperature Range

-15 to 50°C (5 to 122°F)
Safety

EN/UL/CSA/PSE 60950-1
Shock & Vibration & Encapsulation

25g (IEC 60068-2-27), 2g (IEC 60068-2-6), IP54 (IEC 60529)
Storage Temperature Range

-40 to 70°C (-40 to 158°F)
IMAGING & OPTICAL
Color Palettes

Iron, Rainbow, Rainbow HC, White hot, Black hot, Arctic, Lava
Detector Type and Pitch

Uncooled microbolometer, 17 µm
Digital Camera

5 MP, with built-in LED photo/video lamp
Digital Zoom

1-4× continuous
f-number

1.3
Focus

Continuous LDM, One-shot LDM, One-shot contrast, Manual
Global Positioning System [GPS]

Automatic image tagging
Image Frequency

30 Hz
Image Sketch

From touchscreen, on infrared image only
IR Resolution

320 × 240 pixels
Lens Identification

Automatic
Minimum Focus Distance

0.15 m
Non-Radiometric IR or Visual Video

H.264 to memory card
Non-radiometric IR video streaming

H.264 or MPEG-4 over Wi-Fi MJPEG over UVC or Wi-Fi
Picture-in-Picture

Resizable and movable
Radiometric IR video recording

Real-time radiometric recording (.csq)
Radiometric IR video streaming

Yes, over UVC
Spectral Range

7.5-14 µm
Thermal Sensitivity/NETD

<40 mK at 30°C (86°F)
UltraMax

Yes
Viewfinder

No
MEASUREMENT & ANALYSIS
Accuracy

±2°C (±3.6°F) or ±2% of the reading
Area measurement information

No
Laser Distance Meter

Yes; dedicated button
Measurement Presets

No measurement, center spot, hot spot, cold spot, User Preset 1, User Preset 2
Object Temperature Range

-20 to 120°C (-4 to 248°F); 0 to 650°C (32 to 1202°F); Optional 300 to 1000°C (572 to 1832°F)
Spot Meter

3 ea. in live mode
POWER
Battery operating time

>2.5 hours at 25°C (68°F) and typical use
Battery type

Rechargeable Li-ion battery
SHIPPING INFORMATION
Packaging

Infrared camera with lens, small viewfinder eyecup, 2 batteries, battery charger, hard transport case, lanyards, front lens cap, power supplies, printed documentation, SD card (8 GB), cables (USB 2.0 A to USB Type-C, USB Type-C to HDMI, USB Type-C to USB Type-C), License card: FLIR Thermal Studio Pro (3 month subscription) + FLIR Route Creator Plugin for Thermal Studio Pro (3 month subscription)
STORAGE MEDIA
Image File Format

Standard JPEG with measurement data included. Infrared-only mode
Image Storage Mode

Infrared, Visual, MSX®, Picture-in-Picture, Gallery